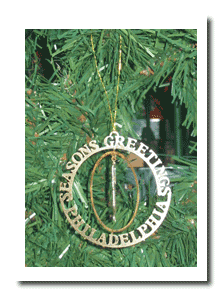 Well, those of you who have done, or in fact do live in America know that practically every month there is some date to be celebrated… New Year, Valentines Day, St Patricks Day, Easter,4th July, Halloween and the big 2 Thanksgiving and Christmas…
I arrived right as the fun was about to begin… you see none of these dates go unnoticed, the appropriate home furnishings are changed to celebrate each event!! So, I arrived as Halloween was in full swing and the Rescuers and I stocked up the candy jar at the door and handed out candy. We dressed up for the Halloween party at church (!) and decorated the rooms accordingly!!!
Thanksgiving came around and we travelled up to Philadelphia to visit the Liberty Bell, actually I have a decoration for that but for some reason I haven't hung it… it's a bit fragile! I shall have to see if I can remedy that… (ed. found it… see right…I mean, your other right…)
Phildaelphia was lovely, from what I recall at least, we were there for such a short time.. but we visited the place where the Declaration of Independence was signed and stood in ridiculous queues to see the bell… It was pretty, and the historical value of the place felt quite weighty. I'd like to go back sometime to see it at a more leisurely pace!
As the weeks went on I was becoming more and more a part of the Rescuer family. It was a thrill to feel so immediately included and I felt very sure that I had met with them by some divine appointment. Thanksgiving dinner was the traditional turkey feast, with spaghetti squash which I have never seen before or since, sweet potato served with marshmallow (ONLY in America) green beans and lots of lovely gravy etc. It was a great day, a real celebration of the good stuff, family and friends.
I came home from Philly to find the little mice had even decorated my bedroom with small Thanksgiving squirrels and a placemat with all sorts of Thanksgiving type motifs. None of the little details were ever missed in the quest to make sure Dee had a great time!!
Of course, the real decorating was still to come..
I can't actually remember why I had been out, it was certainly for a long time so it may have been that I was working (I had taken on a number of casual cleaning/babysitting jobs to keep the cashflow going) but I arrived home one afternoon and got the shock of my life!
As I climbed the stairs to my room there were rather suspicious childish giggles from behind me as Kat and Crisp followed me up the stairs…
Nothing was too untoward as I approached my room though there was a rather lovely wreath hanging from my door. There were 3 hand decorated hearts dotted strategically around it each bearing 1988 written on the back just so I never forgot when my Christmas with Rescuers actually ocurred… which was a v. good thing because as the years go by I still can't believe it was that long ago!!!.. Oh god, nearly 20 years! Furthermore, when I opened the door I was assailed by Christmas like I never saw it before!!!
There was a long string of pine garland wrapped around the furniture and strung along it were many of the decorations that I have been showing off in this series, the Garfields, the little wooden Santa and the cardinal which were posted today.
All of the pieces were chosen because they have some kind of significance for me…The Chairman is the kind of person who will see something that she knew I'd love and would buy it there and then… The cardinals were regular features on the highways and byways of Maryland. As I love to see the different fauna of the places I live in (I still get a kick out of the Kookaburras here, 7 years down the track!!!) I would remark on their scarlet presence every time I'd see one (as I would with Woodchucks, squirrels and chipmunks!). The little Santa was just plain cute so he got popped into the pile…
You might think the piece de resistance was a little tiny Christmas tree set up as the centrepiece which was adorned with the little red hearts, each one personalised with the names of all my family members and all of the Rescuers, right down to the family cats but in fact it was the hand-made Christmas stocking that was hung [with care] on the mantlepiece alongside a raft of the others, one for each of immediate and the extended family. Not only were the names specific (duh) but the motif on each one was specific to the owner… mine, a little ginger kitten like the Ratbag I'd left with Dad… In fact, it wouldn't surprise me if their cat had one of her own as well!!!
I was pretty stunned actually, no one had ever gone to that much trouble on my account before! The bedroom looked gorgeous and the fact that I got to keep all the stuff has certainly meant that the Rescuers have NEVER gone forgotten at Christmas time! In fact in recent years a new deco has arrived by mail in time to add to the collection on the tree… each with stories of their own…